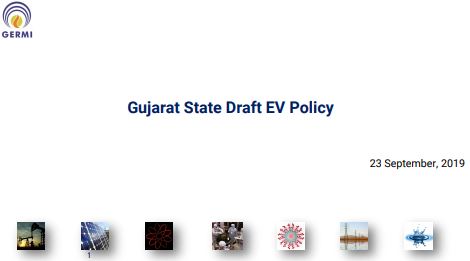 Gujarat State Draft EV Policy
Publication Year: 2019
Abstract:
The Vision of Gujarat State Electric Vehicle Policy 2019 is to position Gujarat as a leader in the adoption of electric vehicles as well as establish a supportive environment to encourage manufacturers and investors for the development of the EV market.
This policy was launched in line with FAME II Scheme i.e. for 3 years (Up to 31 March 2022) on 23 September 2019. The main objectives of this policy are to transition the State's transportation sector towards electric mobility in phases, making Gujarat a Manufacturing Hub for EV and ancillary equipment. It also aims to encourage investment in electric mobility and job creation.
As per FAME I statistics (from Dashboard), Gujarat is one of the leading performers in the country in the deployment of electric vehicles. A total of 31,000 Vehicles have already been sanctioned under this policy.
Country: India
Publisher/Organisation: Gujarat Energy Research and Management Institute (GERMI)
Rights: Gujarat Energy Research and Management Institute (GERMI)
URL:
https://wri-india.org/sites/default/files/3.D1_S1_Gujarat%20State%20EV%20Draft%20Policy_Akash%20Davda.pdf
Theme: Policies and Regulations | Subtheme: State level
Related Documents