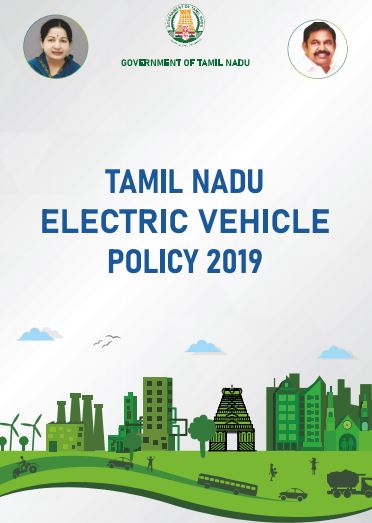 Tamil Nadu Electric Vehicle Policy 2019
Publication Year: 2019
Abstract:
Tamil Nadu has the second-highest vehicle population in the country with 2.77 crore vehicles. The Government of Tamil Nadu has led many initiatives to reduce air pollution and congestion on roads. At the end of FAME Phase I, the electric vehicle penetration remained low in Tamil Nadu. Hence, a dedicated strategy to address the price of EVs, public charging infrastructure and investment in EV manufacturing and charging infrastructure was required to promote adoption of EVs in the state. The broad objectives of this policy are the following:
Create robust infrastructure for electric vehicles including adequate power supply and network of charging points with favourable power tariff
Promote innovation in EV for automotive and shared mobility by providing the ecosystem and infrastructure to make Tamil Nadu, the EV Hub of India
Create a pool of skilled workforce for the EV industry through the technical institutions available in the State and create new jobs in the industry
Make Tamil Nadu the preferred destination for Electric Vehicles and component manufacturing units including battery and charging infrastructure
Create a conducive environment for Industry and Research Instuons to focus on cutting edge research in EV Technologies and reap the benefit from the outcome
Recycle and reuse used batteries and dispose of the rejected batteries in an environment-friendly manner to avoid pollution.
It is the vision of the Government of Tamil Nadu to attract ₹50,000 crores (₹500 billion) of investment in EV manufacturing and creates a comprehensive EV ecosystem in the State. This Tamil Nadu Electric Vehicle Policy and a package of incentives and concessions came into effect from September 2019 and will be valid for a period of ten years or till a new Policy is announced.
Country: India
Publisher/Organisation: Government of Tamil Nadu
Rights: Government of Tamil Nadu
URL:
https://electricvehicles.in/wp-content/uploads/2019/09/Tamil-Nadu-Electric-Vehicle-Policy-2019-min.pdf
Theme: Policies and Regulations | Subtheme: State level
Related Documents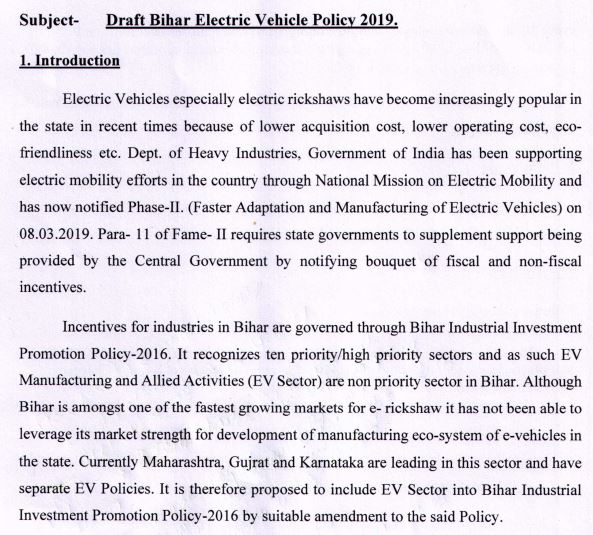 Abstract:
The Draft Bihar Electric Vehicle Policy 2019 aim at the creation of manufacturing ecosystem fo... Read More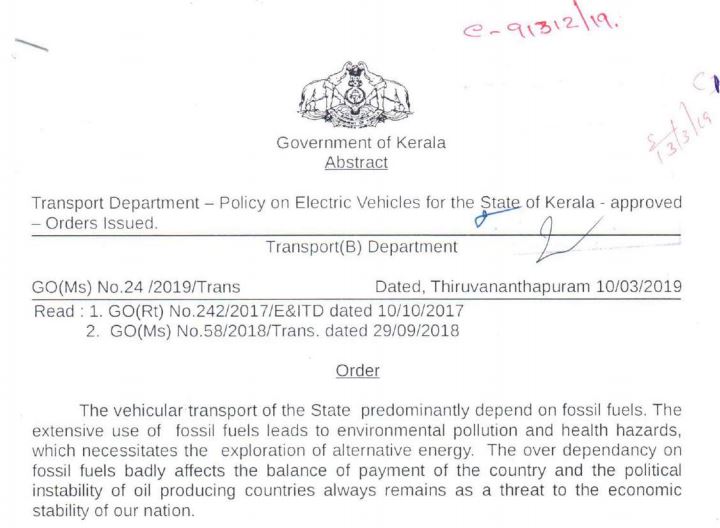 Abstract:
For the state of Kerala, known for its environmental sensitiveness, bio-diversity and tourist... Read More