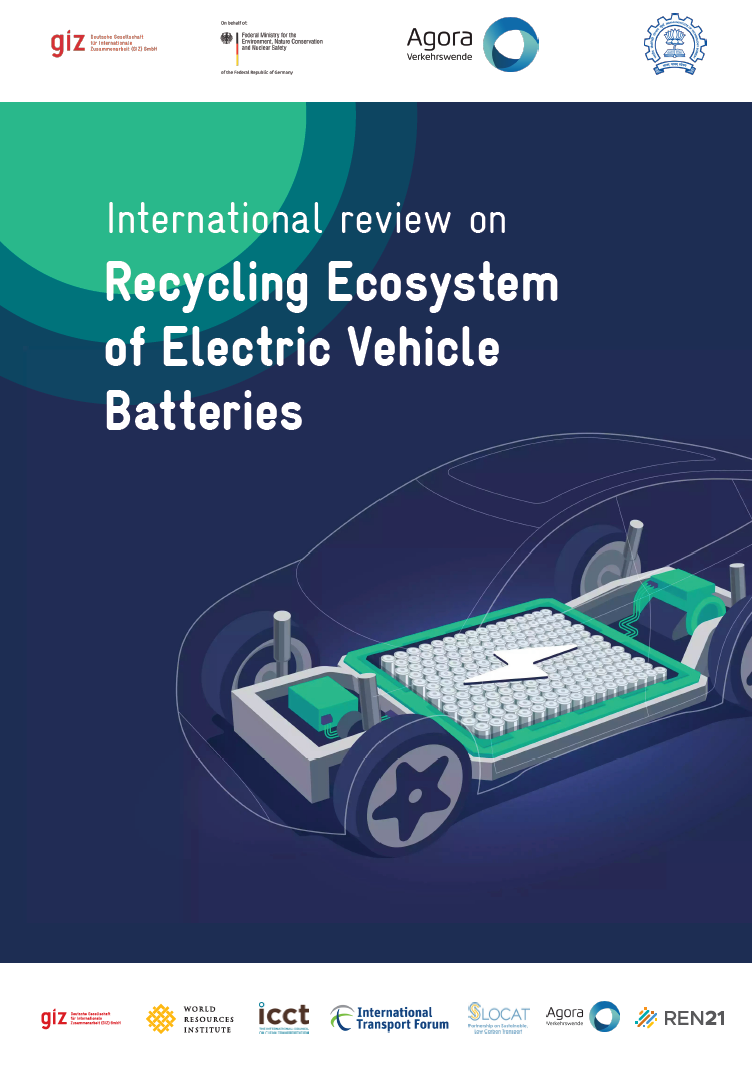 International Review on Recycling Ecosystem of Electric Vehicle Batteries
Publication Year: 2022
Author(s): Bej S (GIZ), Zhimomi T (GIZ), Hochfeld C (Agora Verkehrswende), Riehle EB (Agora Verkehrswende), Rather Z (Indian Institute of Technology Bombay), Bradiya MR (Indian Institute of Technology Bombay), Maity S (Indian Institute of Technology Bombay)
Abstract:
The increasing adoption of electric mobility, as a response to decarbonising the transport sector, has seen rapid growth with the global electric car stock hitting the 10 million in 2020 (IEA, 2021). The envisaged projections in EVs and subsequent battery demand raises important questions on meeting the high demand. This demand in turn necessitates the need for increased extraction of raw materials. However, reserves are limited in nature and the emissions that result from extraction, processing and transport would defeat its decarbonization goals. Recycling of battery, thus, becomes an important aspect in the entire supply chain. It is important to note that recycling is crucial not only for securing the supply of key raw materials for the future but also for reducing the need for new mineral extraction, thereby lowering the ecological footprint manifold.
This study focuses on the recycling ecosystem of batteries. Batteries up until recently were primarily used in electronic appliances. However, with the advent of EVs, batteries for traction applications have become synonymous with battery recycling and needs careful and in-depth study. This study looked into the policies and regulations currently in place for recycling of batteries, who the stakeholders are in the recycling ecosystem, supply chain, and major players for battery recycling in the international space. The international review was conducted for the following countries: Germany and rest of EU, California (US), China, Japan and South Africa.
This study is conducted under the Nationally Determined Contribution-Transport Initiative for Asia (NDC-TIA) India component and prepared jointly by Deutsche Gesellschaft für Internationale Zusammenarbeit GmbH (GIZ), Agora Verkehrswende, and Indian Institute of Technology Bombay (IIT Bombay)..
Country: India
Publisher/Organisation: Deutsche Gesellschaft für Internationale Zusammenarbeit (GIZ) GmbH
Rights: Deutsche Gesellschaft für Internationale Zusammenarbeit (GIZ) GmbH.
URL:
https://greenmobility-library.org/public/index.php/single-resource/VVlwYzEwdzZUWmNjVDdRQnI0L0JOZz09
Theme: Battery Technology | Subtheme: Recycling batteries
Related Documents