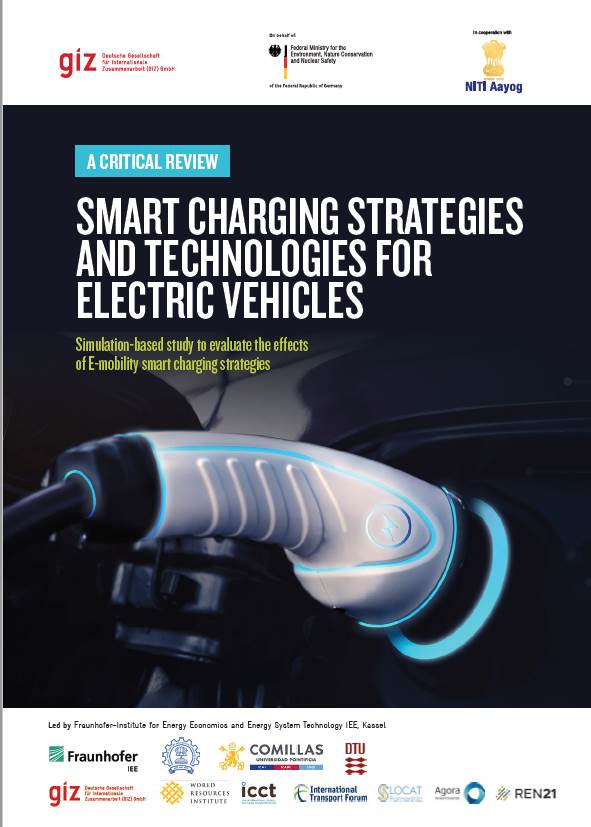 A Critical Review: Smart Charging Strategies and Technologies for Electric Vehicles
Simulation-based study to evaluate the effects of E-mobility smart charging strategies
Publication Year: 2021
Author(s): Rather Z (IIT Bombay), Dahiwale P (IIT Bombay), Lekshmi D (IIT Bombay), Hartung A (Fraunhofer IEE)
Abstract:
The report focuses on Electric Vehicles (EV) smart charging strategies and approaches, related policy and regulatory measures, technical aspects, grid integration of EVs, and the way forward for smooth EV adaption in the Indian EV ecosystem.

The following key aspects are focussed in the report:
Concept of smart charging,
Critical review of various smart charging strategies and approaches for electric vehicles,
Smart charging technologies and related products and solutions,
Gaps in Indian regulations and policies from smart charging perspective,
Commercially available smart charging products and equipment, and
Case studies of existing smart charging projects.
This report is the first in the series of the overall study – "Simulation-based study to evaluate the effects of E-mobility smart charging strategies", conducted under the NDC-TIA India component, carried out by consortium led by Fraunhofer Institute for Energy Economics and Energy System Technology IEE, Kassel (IEE) in collaboration with Indian Institute of Technology, Bombay (IITB), Technical University Denmark (DTU), and Universidad Pontificia Comillas (IIT Comillas).
Country: India
Publisher/Organisation: Deutsche Gesellschaft für Internationale Zusammenarbeit (GIZ) GmbH
Rights: Deutsche Gesellschaft für Internationale Zusammenarbeit (GIZ) GmbH
URL:
https://greenmobility-library.org/public/index.php/single-resource/QlBDRnJiUnRSb0lmaGxGaFJNM0xuUT09
Theme: Charging Infrastructure | Subtheme: Commercial and Institutional charging
Related Documents