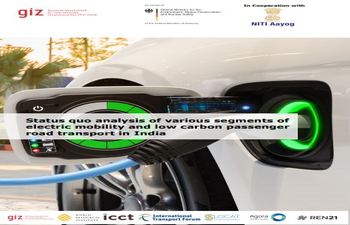 Status quo Analysis of Various Segments of Electric Mobility and Low Carbon Passenger Road Transport in India
Publication Year: 2021
Author(s): Deutsche Gesellschaft für Internationale Zusammenarbeit (GIZ) GmbH, NITI Aayog
Abstract:
This report provides the existing status, challenges, gaps, opportunities, and way forward for low carbon road transport (LCRT) in India. Different types and technologies, services, business models, standards, protocols, contribution in India's long-term NDCs and other climate action and clean energy targets are assessed for various segments of low carbon road transport.
The study provides special focus to electric mobility sector by distinguishing the present clean-mobility landscape, critical challenges, emerging technologies and research advancements that give impetus to LCRT/ E-mobility systems adoption.
The findings from this report could enable policymakers, regulators, services, business models, and the Government of India to identify action plan(s), reforms, and amendments required to increase the market uptake of LCRT/E-mobility in India.
To view the Executive Summary of the report, please click here
Country: India
Publisher/Organisation: Deutsche Gesellschaft für Internationale Zusammenarbeit (GIZ) GmbH
Rights: Deutsche Gesellschaft für Internationale Zusammenarbeit (GIZ) GmbH
URL:
https://greenmobility-library.org/public/index.php/single-resource/MnBCOHh4N3c5cEpZYVVrYWZnZ0x3UT09
Theme: Sustainable transportation | Subtheme: Environment Impact
Related Documents