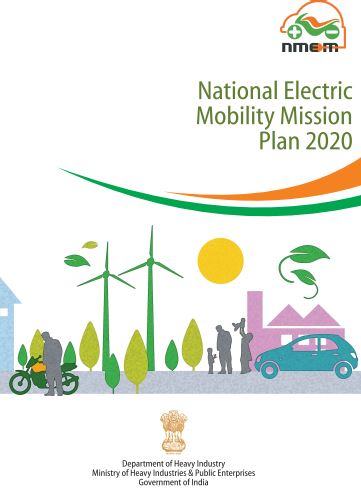 National Electric Mobility Mission Plan (NEMMP) 2020
Publication Year: 2012
Abstract:
The National Electric Mobility Mission Plan (NEMMP) 2020 plan was launched by the Government of India in 2013 with the objective of achieving national fuel security by promoting electric and hybrid vehicles. It aimed to achieve national fuel security by promoting hybrid and electric vehicles in the country. There is an ambitious target to achieve 6-7 million sales of hybrid and electric vehicles year on year from 2020 onwards.
The government also aimed to provide fiscal and monetary incentives to kick start this nascent technology. The Government plans to incentivize buyers while purchasing these hybrid and electric vehicles by providing monetary support.
This policy envisioned the growth of the automotive industry through a comprehensive policy framework, as per the goals of AMP 2026. The plan had made several recommendations for the adoption of electric vehicles (EVs), including electric-powered government fleets and public transportation and subsidies for those who opt for EVs.
Country: India
Publisher/Organisation: Ministry of Heavy Industries & Public Enterprises, Government of India
Rights: Ministry of Heavy Industries & Public Enterprises, Government of India
URL:
https://dhi.nic.in/writereaddata/content/nemmp2020.pdf
Theme: Policies and Regulations | Subtheme: National
Related Documents