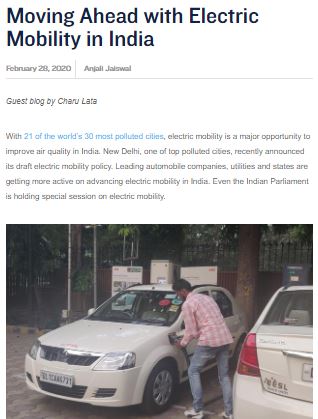 Moving Ahead with Electric Mobility in India
Guest blog by Charu Lata
Publication Year: 2020
Author(s): Jaiswal A
Abstract:
The transport sector is a significant and growing contributor to spiking air pollution in India. In 2015, transportation tailpipe emissions attributed to 1800 premature deaths in New Delhi. Recently, New Delhi announced its draft electric mobility policy. Electric mobility is considered a major opportunity to improve air quality in India. E-mobility solutions are essential for reducing emissions from the transport sector – both for air pollution and climate change.
To unpack EV programs and market readiness, both Houses of Parliament in India, the Lok Sabha and Rajya Sabha had special sessions on electric mobility. This blogpost provides some highlights of the sessions and suggested responses.
Country: India
Publisher/Organisation: Natural Resources Defense Council (NRDC)
URL:
https://www.nrdc.org/experts/anjali-jaiswal/moving-ahead-electric-mobility-india#:~:text=Faster%20Adoption%20and%20Manufacturing%20of%20Electric%20Vehicles%20in%20India%3A%20Phase,for%20shared%20mobility%20in%20India.
Theme: Vehicle Technology | Subtheme: Electric vehicles
Related Documents