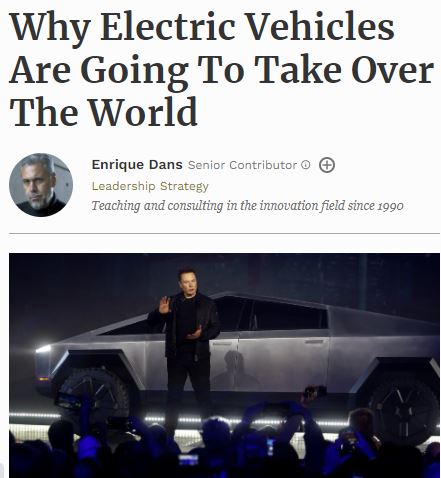 Why Electric Vehicles Are Going To Take Over The World
Publication Year: 2020
Author(s): Dans E
Abstract:
Interesting times in the electric vehicle market, as more and more carmakers try to position themselves in what looks like the second phase of growth.
Electric mobility gives car designers much more creative freedom with fewer constraints than traditional vehicles, where pretty much everything has already been invented and could lead to revolutionary vehicles that look very different to anything we've seen so far.
Enrique Dans, Senior Contributor, Leadership Strategy, talks about the transition to electric mobility and its impact on car dealers and their maintenance networks in this blog post.
Country: United States of America
Publisher/Organisation: Forbes
Rights: Forbes
URL:
https://www.forbes.com/sites/enriquedans/2020/05/09/why-electric-vehicles-are-going-to-take-over-theworld/?sh=1ff58cd6334e
Theme: Vehicle Technology | Subtheme: Electric vehicles
Related Documents