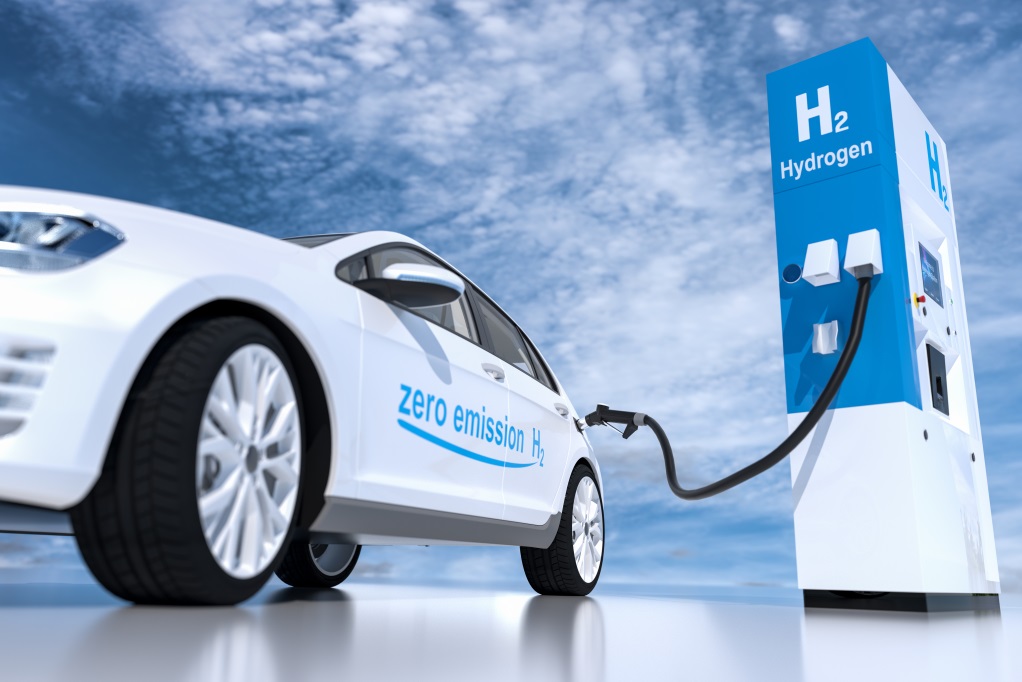 Hydrogen Fuel Cell
Inventor/Assignee: Kuldip Chand Tangri
Description:
Introduction: Hydrogen fuel cells use hydrogen as a fuel in an electrochemical process that combines hydrogen and oxygen to produce electrical energy and water. The reverse process of electrolysis, which produces 'green' hydrogen and oxygen from water, can use a range of renewable energy resources (wind, wave, solar) to produce hydrogen as a fuel for renewable power generation. There is also growing interest in hydrogen power as a uniquely clean energy source that can produce heat and whose only by-products are water.
Green hydrogen produced from electrolysis (a high energy process) and renewable energy sources is a high cost option, which only accounts for around 5% of total H2 production. Currently, the vast majority of global hydrogen production derives from fossil fuel sources (methane gas reforming) and will continue to do so for several decades. However, as manufacturing capacity for more efficient and cost-effective electrolysers grows, it is expected that costs of production will fall markedly alongside roll-out of maturing renewable power generation technologies and capacity.
In order to produce a secure, resilient and decarbonised energy system, production and bulk storage of hydrogen will play an important role in balancing intermittent supply of energy from renewable energy sources with end-user demands (ie. for grid electricity, domestic and industrial heating and fuel for transportation).
Maturity Timeline: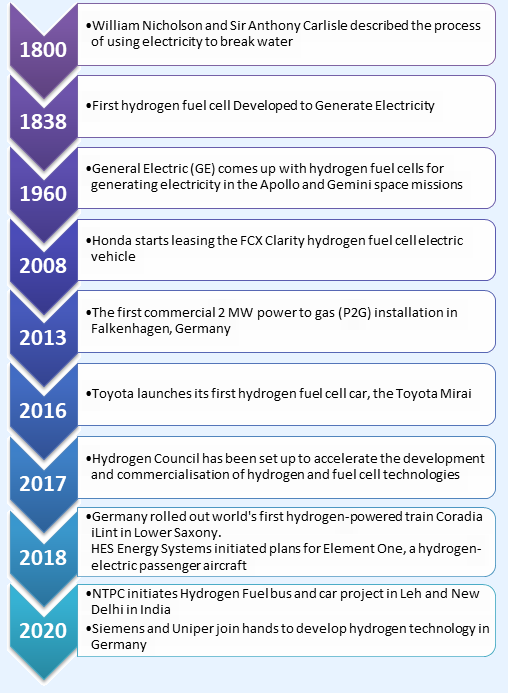 Advantages:
Renewable and readily available
Hydrogen is a clean and flexible energy source to support zero-carbon energy strategies
More powerful and energy efficient than fossil fuels
Highly efficient when compared to other energy sources
Almost zero emissions
Reduces carbon footprints
Fast charging times
Limitations:
Despite being the most abundant element in the Universe, hydrogen does not exist on its own so needs to be extracted from water via electrolysis or separated from carbon fossil fuels. Both of these processes require a significant amount of energy to achieve. This energy can be more than that gained from the hydrogen itself as well as being expensive.
Hydrogen fuel cells need investment to be developed to the point where they become a genuinely viable energy source. This will also require the political will to invest the time and money into development in order to improve and mature the technology.
Precious metals such as platinum and iridium are typically required as catalysts in fuel cells and some types of water electrolyser, which means that the initial cost of fuel cells (and electrolysers) can be high.
Storage and transportation of hydrogen is more complex than that required for fossil fuels.
Hydrogen is a highly flammable fuel source, which brings understandable safety concerns.
Process: Hydrogen fuel cell cars are powered by compressed hydrogen gas stored in a tank that feeds into an onboard fuel cell "stack" that transforms the fuel's chemical energy into electrical energy. This powers the car's electric motors. The only waste product is water. The fuel cell comprises multiple cells. Hydrogen gas enters the anode of the cell and meets a catalyst that separates hydrogen atoms into electrons and protons. The electrons are gathered by the conductive current collector that feeds the onboard battery and/or the motors.
Currently, infrastructure for refuelling hydrogen fuel cell cars is far less as compared to the infrastructure for charging electric vehicles.
Price Range: Hydrogen vehicles are more expensive to refuel as well. The cost of refuelling a Toyota Mirai (5.6 kg tank) in India can be around Rs 840-2,800 depending on the source of hydrogen (Grey or Green). On the other hand, for charging an EV battery of a Tata Nexon EV the cost could be Rs 150-240 depending on the infrastructure (private or public) and cost of electricity per unit (as of March 2022).
Commercialization:
General Motors signed an agreement to provide its fuel cell technology to truck maker Navistar. Navistar is in turn supplying hydrogen production firm OneH2 to provide trucking specialist J.B. Hunt Transport Services with a zero-emissions long-haul mobility system. Navistar plans to make its first production model fuel cell EV commercially available in 2024.
Groupe Renault and fuel cell system specialist Plug Power launched a 50/50 joint venture to manufacture hydrogen fuel cell systems for light commercial vehicles. The new company, based in France, will also produce technology for fuel cell passenger car applications.
Strategic partnerships between Stellantis, automotive supplier Faurecia and fuel cell specialist Symbio, which is Faurecia's JV with Michelin, will focus on the development of the fuel cell stack and the hydrogen storage system for Stellantis's planned line of light commercial vehicles.
AVL Powertrain and Ford began working on the design and development of a driveable demonstrator fuel cell EV. AVL is leading research into the integration of the fuel cell and hydrogen systems into the vehicle. The goal of the project is to accelerate UK-based FCEV expertise and know-how to support the automotive industry's drive toward zero-emission propulsion.
Canadian companies Ballard Power Systems and Linamar Corporation announced that they are jointly developing fuel cell powertrains and components for Class 1 and 2 vehicles, including buses and commercial trucks, weighing up to five tons. The powertrains will initially be marketed in North America and Europe.
Use Cases: Energy technology for supplying energy to places where free access to the power grid is impossible; Construction of autonomous robots; Emergency power systems; Space technology – ships and probes; Automotive industry
Patent: US4085709A
Theme: Vehicle Technology | Subtheme: Alternate fuels
Source:
Hydrogen fuel cells technology – advantages, disadvantages and applications
How Do Fuel Cell Electric Vehicles Work Using Hydrogen?
Hydrogen fuel cell vehicles – how close is commercialization?
Electric vehicles' cost to be at par with petrol-run cars in 2 years: Nitin Gadkari
Related Documents