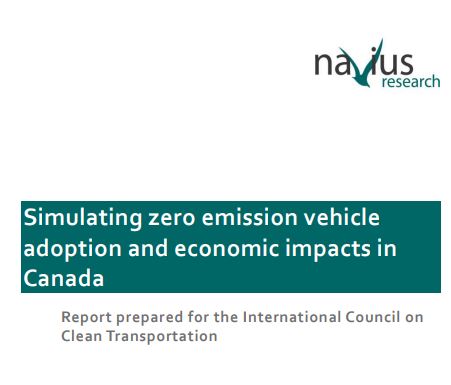 Simulating Zero Emission Vehicle Adoption and Economic Impacts in Canada
Publication Year: 2020
Author(s): International Council on Clean Transportation (ICCT)
Abstract:
The adoption of zero emission vehicles or ZEVs –including battery, plug-in hybrid and hydrogen fuel cell electric vehicles – is a key action for decarbonizing Canada's transport sector. This report, commissioned by the International Council on Clean Transportation, simulates the adoption of ZEVs in Canada through 2040. It answers the following questions:
1. What level of ZEV adoption and related economic activity is likely in Canada based on the declining cost of ZEVs, consumer preferences and current federal and provincial policies?
2. What are the adoption and economic impacts of implementing stronger policies that (i) require greater adoption of ZEVs and (ii) provide support for Canadian ZEV manufacturing?
Country: Canada
Publisher/Organisation: International Council on Clean Transportation (ICCT)
Rights: International Council on Clean Transportation (ICCT)
URL:
https://theicct.org/sites/default/files/publications/ZEV-impacts-Canada-Navius-042020.pdf
Theme: Economic | Subtheme: Financing
Related Documents