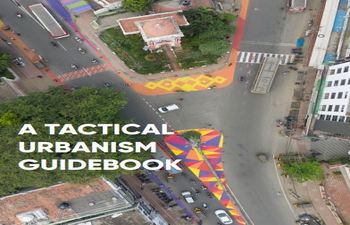 A Tactical Urbanism Guidebook
Publication Year: 2020
Author(s): Mohankumar V, Rajalingam S, Venkatesan V, Saravanan N, Yasmin N
Abstract:
Tactical urbanism is a city and/or citizen led, quick and affordable way to test and demonstrate change in our physical environments. It is an approach that is premised on using short-term, low-cost and scalable interventions as a way to catalyze long-term change.
The guidebook talks about the people involved, the processes that need to be undertaken, Site identification, the kind of interventions that can be executed, materials required and more.
The purpose of this guidebook is to decode the various aspects of Tactical Urbanism – an emerging city-shaping approach in Indian cities. This guidebook has been calibrated to adapt to a vast range of local contexts and is relevant to citizens, experts and urban local bodies alike. It draws on leanings from several case studies from Indian cities over the past five years to explore five thematic intervention areas to effect change in our streets and public spaces.
Country: India
Publisher/Organisation: Deutsche Gesellschaft für Internationale Zusammenarbeit (GIZ) GmbH
Rights: Deutsche Gesellschaft für Internationale Zusammenarbeit (GIZ) GmbH
URL:
https://greenmobility-library.org/public/uploads1/resource_attachments/TrainingMaterial_A_Tactical_Urbanism_Guidebook.pdf
Theme: Sustainable transportation | Subtheme: Public
Related Documents