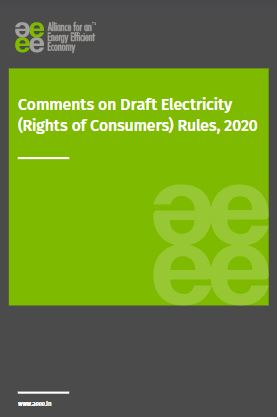 Comments on Draft Electricity (Rights of Consumers) Rules, 2020
Publication Year: 2020
Author(s): Alliance for an Energy Efficient Economy (AEEE)
Abstract:
The Ministry of Power has proposed a new set of rules for the rights of consumers and prosumers. The draft rules specify a common minimum standard of performance for the utilities across the nation, with an objective to provide consumers with better services. The rules, in principle, recognise the electricity consumption as an important stakeholder in the electricity sector and declares the basic rights available to a consumer for getting a connection and ensuring a reliable power supply.
Active participation of consumers is a primary requisite to support the ongoing transition of the electricity sector. One of the key barriers to encourage active consumer participation is awareness. An effective pathway to improve consumer awareness and encourage active participation is by providing consumers access to their own energy consumption. With smart meter technology, it is easier to achieve this and encourage energy conservation measures. In case consumers have the chance to understand their consumption pattern and make decisions that will result in savings. This would also help design tariffs, which capture the time value of electricity reflective of the varying cost of generation. This would benefit both DISCOMs and consumers.
In this document, AEEE provides suggestive changes to the Draft Electricity (Rights of Consumers) Rules, 2020.
Country: India
Publisher/Organisation: Alliance for an Energy Efficient Economy (AEEE)
Rights: Alliance for an Energy Efficient Economy (AEEE)
URL:
https://aeee.in/our_publications/comments-on-draft-electricity-rules/
Theme: Policies and Regulations | Subtheme: National
Related Documents