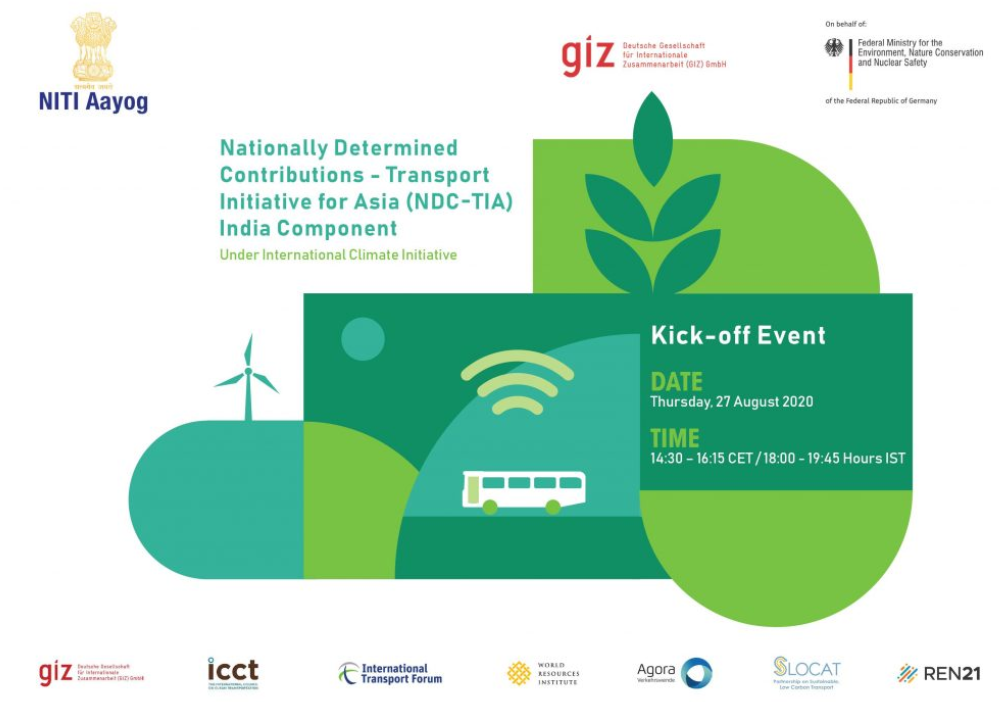 NDC Transport Initiative for Asia (NDC-TIA)
Project kick off in India
Publication Year: 2020
Author(s): NITI Aayog
Abstract:
The virtual kick-off event of the Nationally Determined Contributions (NDC)- Transport Initiative for Asia (TIA)– India Component was Streamed live on Aug 27, 2020. This online kick-off event revealed the NDC-TIA India Component objectives and planned activities to relevant stakeholders.
The NDC-TIA programme in Inda is being implemented by Niti Aayog in collaboration with the German Federal Ministry for the Environment, Nature Conservation and Nuclear Safety (BMU) under its International Climate Initiative (IKI).
The aim of the NDC-TIA India Component is to promote a comprehensive approach to decarbonising transport through coherent policies and strategies, coordinated among ministries, civil society organisations and the private sector.
The consortium partners of NDC-TIA include:
(1) Deutsche Gesellschaft für Internationale Zusammenarbeit (GIZ)
(2) World Resources Institute (WRI)
(3) International Council on Clean Transportation (ICCT)
(4) International Transport Forum (ITF)
(5) The Partnership on Sustainable Low Carbon Transport (SLOCAT)
(6) Agora Verkehrswende
(7) Renewable Energy Policy Network for the 21st Century e.V. (REN21)
The event started with the Keynote addresses by Mr Amitabh Kant, CEO, NITI Aayog and Dr Karsten Sach, Director General IK, International and European Policy, Climate Policy, BMU. In addition, Ms Corinna Küsel, Director South Asia, GIZ and, Mr Stephan Grabherr, Deputy Ambassador, German Embassy also delivered their remarks on the NDC-TIA Project.
Country: India
Publisher/Organisation: NITI Aayog
Rights: NITI Aayog
URL:
https://www.youtube.com/watch?v=fEVcZZbhTxk&ab_channel=NITIAayog
Theme: Sustainable transportation | Subtheme: Environment Impact
Related Documents